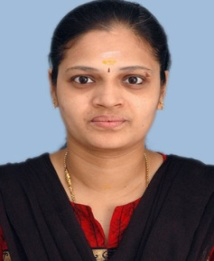 Dr R GEETHA
Principal Scientist
CSIO
CSIR-CSIO Chennai Centre CSIR Madras Complex, Taramani Chennai-600113
geetha@csircmc.res.in
044-22541061
Academic Background
B.E. (Mechanical Engg.),
M.E. (Production Engg.)
Ph.D (Mechanical Engg.)
Professional Background
Grade
Laboratory/Institute
Duration
From
To
Scientist Gr. IV (2)
CSIR-Central Scientific Instruments Organisation
10.08.2009
Till Date
Scientist Gr. IV (1)
CSIR-Central Scientific Instruments Organisation
 18.07.2005    
09.08.2009
Lecturer
V L B Janakiammal College of Engg & Technology, Coimbatore
May2001
July 2005
Areas of Scientific Interest
Biosensor and Renewable sources of energy, Standards and Calibration
Projects
| Sl. No. | Title of the project | Role | Participating Agency | Project Category |
| --- | --- | --- | --- | --- |
| 1. | Design & Development of  Cost effective in –situ Induction Motor Efficiency Monitoring system | Project Member Dynamic Encoding Algorithm for searches (DEAS) for parameter identification of induction motors | Department of Science & Technology   | Instrumentation |
| 2. | National Hub for Health care Instrumentation Development-Immuno fluorescence based instrument platform bacterial detection |  Project member in  Mechanical design of Instrumentation  system | Department of Science & Technology   |   Instrumentation |
| 3. | Development of instrumentation for Antibiogram |  Project member in  Mechanical design of Instrumentation system | Department of Science &Technology   | Instrumentation |
|   4. |  Development of an instrument using Immuno fluorescence based biosensor for the detection of infectious pathogens-Phase II | Project member in  Mechanical design of Instrumentation system | Department of Science & Technology   | Instrumentation |
| 5. | Automated Liquid Media Dispensing System | Project Member involved in design and development of Automated Multichannel pipette tool head with the help of actuators, and design of syringes of pipette tool head. | Department of Science & Technology   |   |
| Sl.No | Title of Project | Role | Participating Agencies | Project Category |
| --- | --- | --- | --- | --- |
| 1. | Mission mode project for mass housing | Project Member | CSIR-SERC, Chennai | Instrumentation |
Calibration Laboratory
Mechanical instruments calibration in the laboratory.
Traceability of Master /Standard /Reference calibration equipments related to Mechanical, Electro-Technical, Pressure, Temperature and Analytical Instruments.
Verifying the instruments sent out for calibration against the reference standards before and after onsite calibration, so as to check its estimated uncertainty value.
Handling various types of instruments from different sectors of industries.
Administrative duties like receipt, dispatch, up keeping of instruments, generation of calibration certificates, Quotation/Invoice etc.
About 500 customers/industries are serviced during each fiscal year.
NABL Accreditation: Accomplishment of NABL documents preparation as per the ISO/IEC 17025:2005. Preparation of Laboratory Quality Manual with all technical and management requirements, NABL Application form and its related documents, Standard Operating procedures for calibration instruments as per IS procedures, Uncertainty calculation of instruments and Inter laboratory comparison for instruments.
Ph.D research on solar energy as an energy management system to obtain green building, zero energy building and towards the achievement of self-sufficiency.
Publication
Sl No
Authors
Title of the Article
Year of Pubn
Name of Journal  
Country
Vol No. Issue, Pages
DOI
1
R.Geetha, M.M.Vijaya lakshmi and E.Natarajan
Modeling and Simulation assessment of Solar Photovoltaic /Thermal Hybrid Liquid System Using TRNSYS
2015
Applied  Mechanics and Materials, Impact Factor: (0.16)
Trans Tech Publications, Switzerland
813-814,700-706
10.4028/www.scientific.net/AMM.813-814.700
2
R.Geetha, M.M.Vijaya lakshmi and E.Natarajan
Energy investigation in serpentine heat exchanger using Aluminum oxide nano fluid on solar photovoltaic /thermal system
Got Accepted on 16.04.2018

ASTM International Journal of testing and evaluation,

Impact Factor:

0.389

UNITED STATES  
--
--
Paper Published in conference :
| Sl.No | Authors | Title of the Article | Date/Year | Name of Conference | Venue | Vol No. Pages | Publisher |
| --- | --- | --- | --- | --- | --- | --- | --- |
| 1. | Ayyappan, ChenthamaraiSelvam, R.Geetha& Kota Srinivas | Rapid Detection  of pathogenic bacteria using immuno fluorescence technique for food processing   | 26-28th September ,2010 | National Bilingual Conference on Agrionics and Food Processing Instrumentation | CSIO, Chandigarh | pp-6, 68 | CSIO, NCAFPI-2010 |
Patents, Technology Transfer etc
| Sl. No | Title | Period during which developed | Date of transfer | Organization/Industry | Total fees realised | Your Role* |
| --- | --- | --- | --- | --- | --- | --- |
| 1. | Design & Development of Cost effective in-situ Induction motor Efficiency monitoring system   | October 2012 to March 2015 | 1)20.2.2016,Realised 1.15 lakhs (Inc.ST)   2)17.6.2016,Realised 11.50 lakhs (Inc.ST) | M/S.BETA Technologies, Coimbatore.   M/S. Industrial controls & drives (India) Pvt Ltd, Chennai. | 57,500       5,75,000 | Co-Principal investigator |