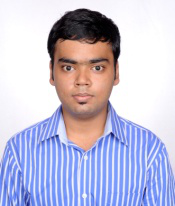 HARSHAL AGARWAL
Senior Scientist
CECRI
harshalagarwal@cecri.res.in
Academic Background
Master of Technology in Renewable Energy – Academy of Scientific & Innovative Research (AcSIR) of Council of Scientific and Industrial Research (CSIR), India 2012-2014
Bachelor of Technology in Automobile Engineering – SRM University, Kattankulathur, Chennai, India 2008-2012
Professional Background
Scientist [2017 – Present], Council of Scientific and Industrial Research (CSIR), Central Electrochemical Research Institute, Chennai
Prime Minister Fellow (Doctoral Research) [Apr 2016 – Mar 2017], Central Electrochemical Research Institute, Chennai
Trainee Scientist (Renewable Energy R&D) [Sep 2012 – Mar 2016], Council of Scientific and Industrial Research (CSIR), Structural Engineering Research Centre (SERC), Chennai
Areas of Scientific Interest
Fuel Cell Systems Design and Modelling
Fuel Cell Engineering
Heat and Mass transfer
Renewable Energy
Awards & Honours
Prime Minister Fellowship for Doctoral research awarded by SERB in collaboration with CII
Secured First Rank in B.Tech, Automobile department and received the Gold Medal.
Performance based University Merit Scholarship for the academic years 2008-09, 09-10 and 2010-11.
Publications
"Internal Humidification in PEM Fuel Cells Using Wick Based Water Transport," Journal of The Electrochemical Society, 162 (9) F1000-F1010 (2015) [DOI: 10.1149/2.0621509jes]
"Wick based in situ humidification in PEMFC: A comparative study", Published in the proceedings of International Conference on Power and Energy Engineering, 2014.
"Compact Standing Wave Thermoacoustic Generator for Power Conversion Applications," Applied Acoustics 110 (2016) 110 – 118 [doi:10.1016/j.apacoust.2016.03.028]
"Performance optimization of tunable standing wave thermoacoustic engine by varying the stack parameters and resonator length: an experimental study," Published in IEEE Conference Publication, 2014, pp. 1-4 [DOI: 10.1109/ICAEE.2014.6838468].
Patents, Technology Transfer etc
"A Novel Wick based technique for Internal Humidification in LT-PEMFC": Patent Submission No.050056.
3 kW water cooled Low temperature PEM fuel cell stack to Reliance [Technology transfer is under process]