English
scientist_image: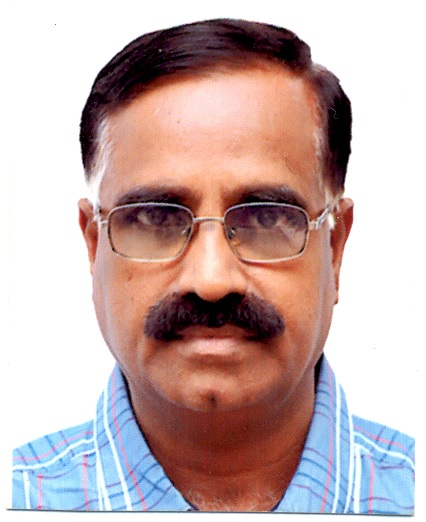 Phone Number:
09444227199
+91-44-2254 2430/4593/1923
Department:
Scinentist Information:
Description:
Life Member, Instrument Society of India
Title:
Areas of Scientific Interest
Description:
Electro-optical sensors, imaging science/ technology & X-ray imaging for industrial applications
Description:
On invitation, attended the Asian NIR Consortium (ANC) executive board meeting as country representative of India on 15-10-2010, Shanghai, China
As an expert member of Advisory Committee participated in the project presentation by students in "Innovation and Entrepreneurship Development Cell (IEDC)", established by DST, New Delhi, organized by Sri Sairam Institute of Technology, Chennai, September 2015, February 2017 & March 2018
Description:
R.Govindaraj and G.Ganesh, "Development and integration of an AOTF based NIR spectrophotometer", Springer Journal of Optics, Published online: 27th February 2018, https://doi.org/10.1007/s12596-018-0458-x.
R.Govindaraj and G.Ganesh, "Experimental Characterization of Fiber coupled NIR-AOTF for Wavelength Tuning", Springer Journal of Optics, Vol.46, Issue 1, pp16-22, March 2017, DOI: 10.1007/s12596-016-0369-7.
K.Anandhanarayanan & R.Govindaraj "Spatial smoothing based segmentation method for internal defect detection in X-ray images of casting components", Proceeding of International conference on Trends in Industrial Measurements & Automation TIMA-2017, 6-8th January 2017, Chennai, IEEE Xplore Digital Library, DOI:10.1109/ TIMA.2017.8064796.
Swathika.B, Anandhanarayanan.K, Baskaran.B & Govindaraj.R, "Radius Bone Fracture Detection Using Morphological Gradient Based Image Segmentation Technique", International Journal of Computer Science and Information Technologies (IJCSIT), Vol. 6(2), 2015, 1616-1619, ISSN: 0975-9646
G.Ganesh, Debanjum Singh Solanky & R.Govindaraj, "Collaborative peer production as an alternative to hierarchical internet based business systems", published in: arxiv.org/pdf/ 1507.08565, 29th July 2015.
K.Anandhanarayanan and R.Govindaraj, "High Performance Color Image Processing in Multicore CPU using MFC Multithreading", International Journal of Advanced Computer Science and Application (IJACSA), DOI:10.14569/IJACSA.2013.041207, Vol.4, No.12, 2013, pp.42-47.
K.Anandhanarayanan & R.Govindaraj "Surface defect detection and classification in mandarin fruits using fuzzy image thresholding, binary wavelet transform and linear classifier model", IEEE - Fourth International Conference on Advanced Computing (ICoAC2012, DOI: 10.1109/ ICoAC.2012.6416829, 2012.
Title:
Patents, Technology Transfer etc
Description:
Technology title
Know-how transferred to
(a)
Infra-gauge for on-line thickness measurement of poly coatings, films, co-extrusions etc.
M/s. Erhardt+Leimer India Limited, Ahmedabad, July 2001
(b)
X-ray Imaging based Mango Sorting System
M/s. Proteck Circuits & Systems Pvt. Ltd., Chennai, 9th December 2009
(c)
Plastic waste sorting system for recycling of Polyethylene Teraphthalate (PET) materials.
M/s. Dintis Technologies Pvt. Ltd., Bangalore, 9th December 2009
(d)
Plastic waste sorting system for five types of plastics
M/s. Spectrum Industries, Mangalore, 2nd May 2014
(e)
Dual energy X-ray image analysis technique for material discrimination
M/s. Krystalvision Image Systems Pvt. Ltd., Pune, 4th January 2017